---
Return to Home Page
Return to Welcome
---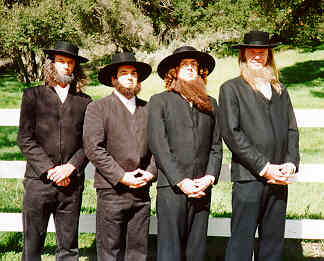 ---
About the The Rosconian Hoogly Rollers

In the early 1970s, a group of Jeez fer Joozis began singing on street corners in and around The Little Shtetl of Milpitas. They didn't win world-wide acclaim, but some people did stop and listen, people who were surprised to hear Rosconian melodies with lyrics about The Lord Roscoe, Poopy Panda and Joozis. At the same time, the group brought a little bit of Roscoeness to the Chapels as they were invited here and there by Rosconians to share their unique music. This group of singing street missionaries was the original The Rosconian Hoogly Rollers.

The Rosconian Hoogly Rollers are singing on the Web too!

You can download audio clips of their Rosconian Gungle music on the web.

And now, here is A short Blipsky Yell, based on the Ishkibibble, written by Steve Watsah and performed by the Rosconian Hoogly Rollers. This song is copyrighted by the composer but you can down load it and use it to your heart's content.

a Short Blipsky Yell? A DOS/Windows Wave File

If you like the song, write us to order the full cassette entitled;
(Rosconian Tape #1) $10 plus tax in Cal.
Play this Real Audio file of Gramma Ooolia Oomba and her
Glorious Meat Sauce made from .... well you'l find out
Download the RAPLAYER to play this wonderful selection
---
Return to Home Page
Return to Welcome
---
©1995 Jeez fer Joozis. Copyright Information.
---